Maybe you're celebrating old traditions, maybe you're creating new ones.
We know you may celebrate parenthood a little differently. That's why we created a baby carrier as diverse as you are.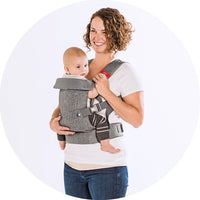 You+Me 4-in-1 ergonomic baby carrier in Grey Mesh
For babies 8 - 32 lbs
4 carry positions, newborn to toddler
3D cool mesh lining for an excellent airflow
Includes a stylish 2-in-1 bandana bib that can be used with the carrier or separately
Perfect tailored fit for all caregivers - from petite to plus-size
No hassle machine wash & dry
Retail price: $49.95
Exclusively on Amazon
you+me baby carrier features
It's a plus!
You+Me 4-in-1 ergonomic baby carrier offers a unique convertible seat for baby that makes for the perfect carrier from birth through toddler years. Use the narrow seat setting and padded built-in head support to comfortably carry newborns and small babies in tummy-to-tummy position, and for babies 6+ months old for facing-out position. Switch to the wide seat setting to continue to provide a variety of ergonomic carry positions as your child grows.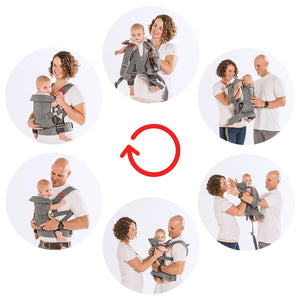 It goes around!
You+Me special harness keeps the baby securely inside the baby carrier, which enables you to pass your baby onto another caregiver, without the need to take the baby out of the carrier. A feature well-loved by both, parents and their babies.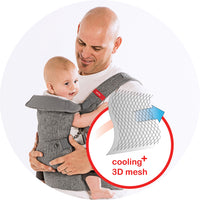 It's cool!
You+Me baby carrier helps you stay cool all year long and beat the heat with breathable 3D cool mesh lining for excellent airflow.
You+me 2-in-1 bandana bib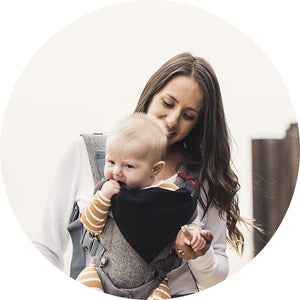 On the carrier...
You+Me double layer bandana bib, made with super absorbent 100% cotton, is as stylish as it is functional. It snaps easily onto the baby carrier. Bandana bib is an included accessory.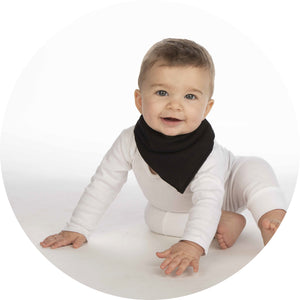 ...or separately
You+Me double layer bandana bib can be used separately, on its own, just like any bib (TIP: wash & dry the bib prior to first use for excellent absorbency).
No matter how you celebrate parenthood, we're here to help you make it your own.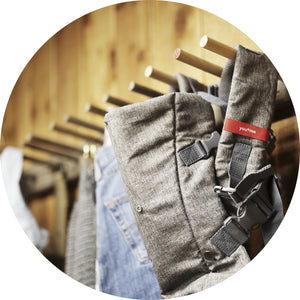 Craftmanship Excellence
You+Me baby carrier quality of design and handiwork shows in every piece we make. From choice of fabric and hardware, thru stitching.
Style it Your Way
You+Me baby carrier comes in an ever-fashionable heather grey, stain resistant fabric. Style it your way.
Destination: Together
We would love to see how your family enjoys YOU+ME baby carrier. Email us your pictures to be featured in our photo gallery.